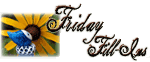 1. I love springtime in all moods and modes!

2. Scrambled eggs, Bread and Corn flakes are foods I love to eat for breakfast.

3. It seems I'm always searching for true love.

4. A warm shower, a good book in hand and snuggling under the covers is a great way to end the day.

5. I think I am growing younger with each passing second

6. Some free time to write and read is what I've been craving lately.

7. And as for the weekend, tonight I'm looking forward to the party that I am hosting, tomorrow my plans include cleaning the house and Sunday, I want to prepare for the Vishu Kani Kanal on Monday morning!

I dedicate this post to my parents on their 28 th year of togetherness! Today is their Wedding Anniversary!
My parents have come through all thick and thin together.
They were sweet hearts in college and then they got married after that.They both shifted to U.A.E together and they made a life for themselves and us!

They have had their share of squabbles and everything! When they have their fights I used to think...Man, and they say these two were in love!

LOL...once I got married I very much understand the hostility and all! It actually takes an experience to teach you about what others are feeling.Talk about putting yourself in other's shoes!


They used to have really bad fights about almost everything!And we kids used to be around to help them sort out and be OK! But after the both of us left the nest and flew off to make our own nests they decided that they had only themselves.They learnt to adjust to each other after we left home! Now they make decisions and dishes together! :)

May God Bless the both of them with cherished memories of togetherness!