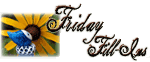 1. Some relationships are meant to last forever.
2. Usha Uthup's show is the last concert I saw; it was an unforgetable evening!
3. Spring should be wonderful with all the songs of the birds and the blooming of flowers .
4. Oh no! I forgot to lock the main door last night!
5. I've recently started thursday thirteening.
6. Kids antics never fails to make me smile.
7. And as for the weekend, tonight I'm looking forward to going for a movie, tomorrow my plans include doing the laundry and Sunday, I want to laze around!