I am so very late for this one too... I was travelling and couldn't log into the Internet!:(

But since I love doing it, here is my Friday fill in!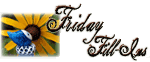 1. Ahhhh, it's so nice to be a woman.

2. One of my favorite things on my desk or bureau is the smiley ball.

3. Japanese Cherry Blossom pink keeps reminding me that I must visit Japan one day,Don't know why but I've always been so passionate about it!

4. A bay seat is my favorite place to sit and read.

5. Ananya and chocolates are delicious!

6. I love to watch comedy in movies.

7. And as for the weekend, tonight I'm looking forward yap with my friend till dawn break, tomorrow my plans include packing up things for the return journey and Sunday, I want to laze around as usual!