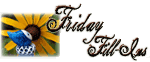 1. Please don't tell that I am a lazy bug.

2. Can you whistle in the morning?

3. The color blue makes me want to dance, swim and sing!

4. I have a craving for a bar of chocolate.

5. If my life had a pause button, I'd pause it frequently.

6. Eyes are the windows of the soul.

7. And as for the weekend, tonight I'm looking forward to my brother coming down, tomorrow my plans include preparing a special dish and Sunday, I want to relax!