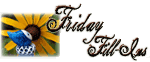 1. She had a great time when she was single.

2. My mobile is by my side, always.

3. I know this: I love to write

4. Alive? still.

5. These words apply to me: adjustable,dependable,busy bee.

6. I was expecting rain and the sun was shining.

7. And as for the weekend, tonight I'm looking forward to trace my dad's black berry he lost, tomorrow my plans include planning a trip to the temple and Sunday, I want to relax,if given a chance!