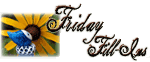 1. Driving my car is so exciting!

2. Strawberry fields reminds me of John Lennon and that not everyone wants war.

3. Anything that has chocolate in it, sounds like it would taste delicious!

4. Why does blogging make me feel so good?!

5. My face; when i sleep, is something I've always wanted to see.

6. It's sad when I miss my parents.

7. And as for the weekend, tonight I'm looking forward to going out with hubby and kids, tomorrow my plans include driving to visit my husband's grand mother and Sunday, I want to visit a temple!

I know its not a Friday yet and the last Friday is over...but somehow my system has developed a Friday pattern disorder. Some part of the system decides to conk off on a Friday and by the time I get it fixed the Friday is over!

Regarding the first fill in...I guess last night I wrote that a bit too fast! I met with an accident today...or rather,I created an accident today! I was driving in to main road from one of the by lanes near the hospital where my husband is employed and it ran into a car coming from the other side! But It wasn't totally my fault! I was slowly moving my car away from a huge lorry that was carrying metal rods for some construction work! and the driver of the other car could see this! But he still brought the car forward and he said he honked the horn...I am not hearing impaired...but I frankly didn't hear!


It created a dent on his black Tata Indica Xeta. I was expecting that someone come out of the car screaming at me! I was ready for it! If something happened to my car, the screaming I am going to have to hear from home would be more and moreover I would have to live with it for the rest of my life as, whether I like it or not, I will be reminded of it very frequently!

But the chap got out of the car(smart looking chap, working with reliance communications! with the name of one of the epic heroes!)

lol...I may sound that I fell for the chap but he was pretty decent...he didn't raise his voice or anything of the sort! so I kinda liked that trait! Well... to cut the story short, I had to go to the police station to file a GD report, so he can claim insurance! Hmm...later my friends tell me I needn't have gone with him for that! Well actually I didn't like the thought of going to the station but I decided to go as this chap asked me do you think you can go and I didn't want to look frail and helpless! So I said,"No issues."

After waiting in the station for about 45 min and in between talking to my brother on the phone(who decided this was the perfect time to scare me, which he literally did) I decided I had enough of the place and gave my sweetest smile to a police officer and he decided to help me! I gave 500 Rupees to the driver of the other car so he can pay the officers for a fine which I am supposed to pay! But they said I wouldn't have to pay if they get an order from their superior! I just didn't want to wait there! Shook hands with the other driver, said sorry again, got his number and I just went my way!

The day started pretty odd!hmmm...