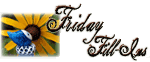 1. The last time I lost my temper I, destroyed my library at home!

2. Sitting idle is what I'm fed up with!

3. The next book I'd like to read is Spouses by Shoba De.

4. A trip to Goa is what I'm looking forward to.

5. If you can't get rid of the skeleton[s] in your closet, lock it up, loose the key, use a new closet!

6. The best thing I got in the mail recently was my b'day gift from my husband, he bought it on ebay!

7. And as for the weekend, tonight I'm looking forward to going out for a movie,tomorrow my plans include spring cleaning, and Sunday, I want to prepare for an up coming exam!