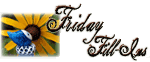 1. Two of my favorite ingredients in a drink are ice and lemon!

2. Kids and their funny expressions, often amazes me.

3. You can keep doing that forever, the dog is never gonna be quiet!

4. Vodka,Blue Curacao and a dash of lemon , mix it all together and voila! You have cocktail à la blue lagoon!

5. If I had a yard with a garden, I would love to grow petunias and tomatoes.

6. Swimming is best au naturel.

7. And as for the weekend, tonight I'm looking forward to revise for the exam,tomorrow my plans include revising again and Sunday, I want to go for a swim!