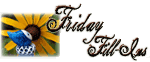 1. The world is a funny place to be in.
2. "Love you" was the last thing I said.
3. I wonder if things are alright back home.
4. Peace is all that remains at the end of all things.
5. There's something to be said for almost everything.
6. With you is where I want to be.
7. And as for the weekend, tonight I'm looking forward to sleep, tomorrow my plans include cooking and Sunday, I want to read a book!