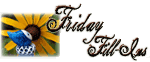 1. Loosing weight is high up on my bucket list.

2. My favorite quote is Tough times never last, but tough people do; it's from Dr. Robert Schuller.

3. Basia inspired me to start blogging.

4. Strawberries are best with a bowl of vanilla ice cream!(yummy)

5. I was 36-26-36 in the last dream I remember having.

6. The most enjoyable time to go for a walk is early in the morning .

7. And as for the weekend, tonight I'm looking forward to filing up the paper cuttings, tomorrow my plans include shopping for a shoe rack and Sunday, I want to sleep!